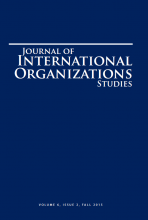 Journal of International Organizational Studies
JIOS is a peer-reviewed journal launched by UNSA in 2009 that seeks to encourage the creation of a distinct field of international organizations studies.
It aims to provide a window into the state of the art in international organizations research, and function as a platform for interdisciplinary dialog on international organizations.
The journal was first published in 2010.
The latest issue includes four essays on the UN at the country level and UN reform:
John Mathiason reassesses operational activities for development; Patrick J. Tiefenbacher proposes a new business model; Annett Richter analyses the norm life cycle of UN reform; and Luciana Campos focuses on UN reform at the country level. Jordan Becker and Benjamin Zyla discuss the issue of NATO / Atlantic burden-sharing.
Please visit http://www.journal-iostudies.org for our most recent and all past issues.